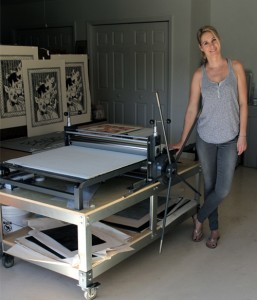 For the majority of my life I dreamed about creating art. My name is Andrea Tripke and I am an artist, at last. Born in Germany as the first of three children to Paul and Agnes Weisser, I inherited my love for painting from my Mom. My first kindergarten teacher wasn't surprised when she heard about my new career because even back as a 3 year old all I wanted to do was paint. However, my professional life took me down a different path at first. I was working as an administrator before my husband Dirk and I moved to the US in 2003.

After I got accustomed to the American way of life, I had the chance to go back to school at the Columbus College of Art and Design (CCAD) in Ohio. Since my graduation with a degree in Fine Arts (majoring in Illustration) I work as a freelance illustrator and designer – currently in Melbourne, Florida.
We moved a lot in the past – from coast to coast and back again, and from the high North to the deep South. This enabled me to come in contact with new exiting people and surroundings, including all kinds of groups interested in art. It gave me endless ideas for new paintings and designs which I entered into a journal during our travels. It helps me to remember my ideas and to eventually use them for some real art work.
After our daughter Lily Blu was born, we decided to try to settle down, which we did here in Melbourne Florida. For now…
Creating Art and Designs gives me the opportunity to share my visions and ideas with others, to work in a job which I truly can say is my passion as well as allowing enough time for my family. I hope my artwork is prove that I truly love what I am doing.
Andrea Tripke